STEEL WEIGHBRIDGES
Steel and galvanized weighbridges for road vehicles
Modular new generation weighbridges, for installation flush floor to the road surface. Suitable in industrial, agricultural, and commercial fields. The standard version is fitted with CE-M 3000+3000e APPROVAL.

MAIN FEATURES
Bearing structure formed by reinforced steel beams.

Sturdy load surface in very thick antislip sheet steel, which guarantees extreme rigidity with every type of vehicles.

Anticorrosive treatments and high-resistance painting.

Double shear-beam IP68 load cells, C3 precision class, EN45501 approved, complete of spherical selfcentering oscillating joints, for compensating the thermal expansions, guaranteeing safe weighs and long term accuracy.

Inspected trapdoors for cells maintenance.

Reduced height (up to 370 mm from the resting surface).

IP68 junction box, complete of 30m connection cable to the indicator.

Dual range 2x3000e CE-M approval.

Wide range of available weight indicators and accessories.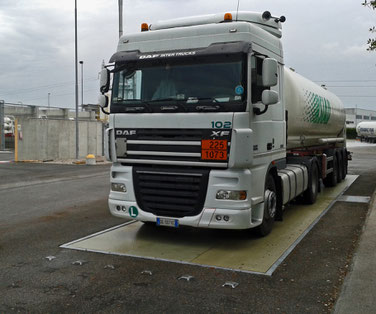 OPTIONS AND ACCESSORIES
Angles' kit for flush floor installation.




3GD and 2GD ATEX versions upon request.